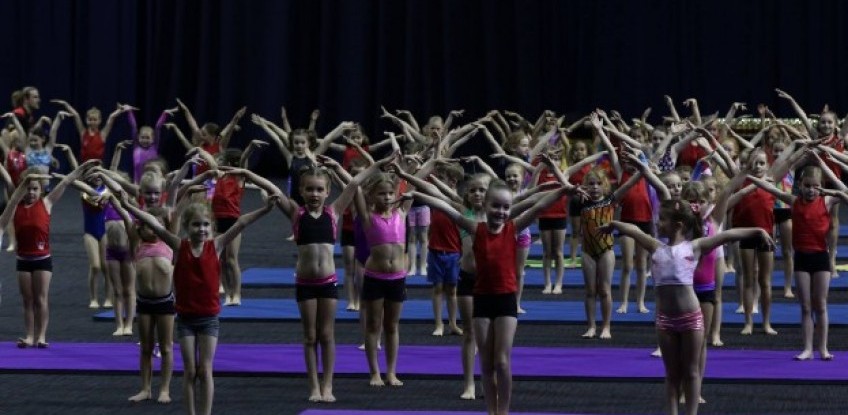 2017 Showcase
24 Nov, 2017
Posted By : Kristel Suess
Comments : 0
Wow, what a magical evening! On Friday November 17th Club Dynamite filled up the massive great hall, at the Brisbane Convention Centre with almost 2000 gymnasts, spectators and coaches for our amazing 2017 Showcase!

It was a truly incredible event, displaying all of our wonderful students from our tiny MiniMites, to our Advanced competitive teams. Performing in such an amazing venue gave every child a sense of being a part of something very special.

We opened the Show with Solos from two of our fabulous performance Team gymnasts, and our Senior Performance Team showcasing their group routine, which recently won the Noosa eisteddfod.

Next our Gymstar kids took to the floor, bopping out their fun routine set to the soundtrack from the movie trolls. Well over 100 little ones performed this routine showing their agility, flexibility, strength and gymnastics skills!

Next we took our audience on a broadway adventure as we performed 3 routines from the award winning musical "Matilda". Starting with our Junior Performance Team, displaying their routine "Revolting children" which won the Gold Coast eisteddfod earlier this year.

Followed by our adorable 3-5 year old MiniMites, performing "when I grow up" from the same hit musical. You could hear the audience in a collective "awwww" as these young students showed off their gymnastics skills.

To finish our Matilda themed segment, our Wednesday Advanced WAG & MAG gymnasts performed "School song", showing that they are not only great gymnasts but great actors too!

From here almost 100 WAG gymnasts took to the floor, cartwheeling and flipping to the sound track of another popular musical "The lion King". Some lovely work was displayed by these girls, as they showed of their skills to hits like "I just can't wait to be king", "Hakuna Matata" and "The circle of life".

Then it was time to be entertained by our Senior Performance Team again, as they showed their high energy routine "Don't stop me now" full of fast paced flips and twists.

Our boys were the next to steal the show as young men from our MAG and Junior boys program combined their gymnastics and ninja skills to the soundtrack of "King fu fighting".

Comtinuing in broadway style our Tuesday Advanced WAG girls treated us to a gymnatsics rendition of "America" from the musical "West side story". They may be young kids but they have a LOT of personality!

We were so proud to bring our Junior Bronze and Bronze gymnasts to the floor next, as they performed their routine "Sax". These gymnasts train just one hour a week and we were so impressed with what they have achieved in that time!

Our Thursday Advanced WAG and MAG gymnasts then had us in stitches as they performed their gymnastics comedy routine to "I hope I get it" from the musical A Chorus line!

Our Bronze Plus and Silver gymnasts were next to take to the stage with a Mash up of the latest hits. This was an incredible moment of the evening as every single one of our other gymnasts stood up in their seats and danced on the spot, while these kids tumbled across the floor!

We were then hit with a change of pace as our Monday ADV WAG gymnasts performed wonderful balance, leaps, students and tumbles to the beautiful song "You raise me up".

We were then treated to one more solo, and our final group routine "Defying Gravity" from the musical Wicked, from our Junior Performance Team who have been undefeated in competitions for all of 2017.

Before the evening wound down, we charged the energy right back up as every single one of our gymnasts and coaches took to the floor one final time to perform the grand finale. What an amazing spectacle it was to see 600 gymnasts performing together.

To top of the night all our gymnasts took home a trophy to reward their amazing effort and commemorate this special day!

Tags
Brisbane Convention Centre | Gymnastics Showcase | Gymnastics Spectacular