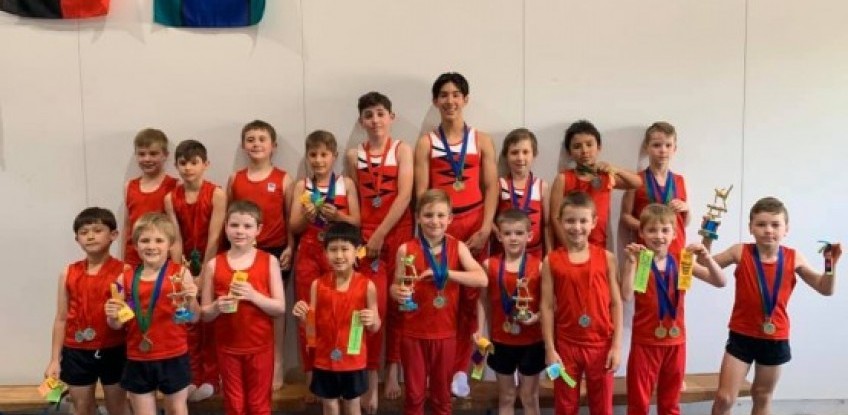 MAG Jacaranda Cup 2019
24 Oct, 2019
Posted By : Kristel Suess
Comments : 0
Congratulations to our MAG Level 1-4 boys for a fantastic competition at the Jacaranda cup on October 20th!

A team of 19 Club Dynamite boys travelled to the Goodna and Districts Gymnastics club to contest the 2019 Jacaranda Cup! We are so proud of all the boys, who are all showing great progress with their gymnastics.

The boys competed on 6 apparatus - Floor, Pommel Horse, Rings, Vault, Parrallel Bars and High Bar against boys from all over South East QLD.

Very single boy on the team successfully earned several place awards, with their awesome performances on the day.

HIGHLIGHTS
LEVEL 1
The Club Dynamite Boys took out the top 3 All Around awards for level 1!
Liam J - 1st
Jacob L - 2nd
Alex DB - 3rd

A special congratulations to Liam J and Ryan B for completing their very first competition!
Liam J won 1st place on High Bar.
Jacob L won 1st place on Rings
Alex DB won 1st place on Vault
Jai S won 1st place on Pommel and P bars

LEVEL 2
Tate R - 1st all around
Loic G complete his 1st Level 2 comp and won 3rd All around!
Tate R won 1st place on High bar
Fletcher H won 1st place on Floor and Rings

LEVEL 3
Christophe T won 1st place on High Bar
Daniel J won 1st place on Floor with an amazing score of 9.9


LEVEL 4
Riki T won 1st place on Vault

The boys are now busy preparing for their next competition in 2 weeks!


Tags
Boys Gymnastics | Boys Gymnastics Team | Mag | Men's Gymnastics