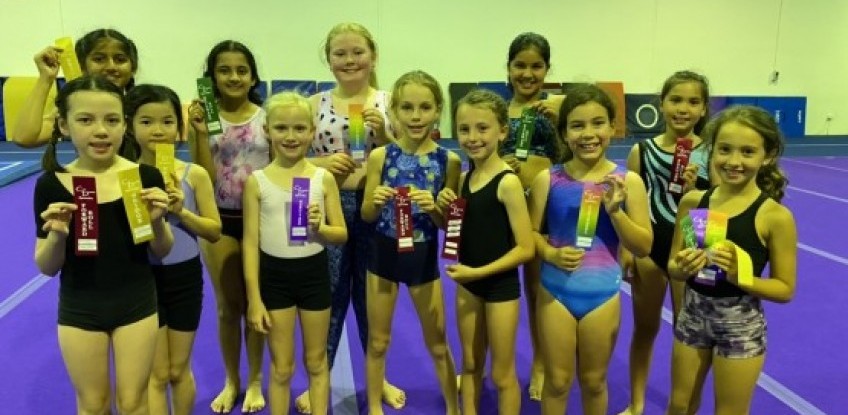 Bronze Ribbons Block 1 2021
22 Feb, 2021
Posted By : Kristel Suess
Comments : 0
Our Bronze program at Club Dynamite caters for gymnasts from year 3-6 at school. They work towards earning their full set of tumbling star ribbons within their program. We have been doing some testing over the past couple of weeks and want to say a big congratulations to those gymnasts who have successfully passed 1 or more of their skill ribbons in block 1. This is an awesome achievement, as we look for a very high standard in our gymnasts before passing their ribbon!

STATICS RIBBON - Dark Blue
Adelaide F
Annabelle F
Crisara A
Diti B
Marlowe C
Mia SC
Shaurya S
Siddhi K
Sophie A
Tiana D

FORWARD ROLL RIBBON - Red
Abigail A
Charli B
Crisara A
Diti B
Dia P
Lachlan P
Muriel T
Olivia H
Sage J
Siddhi K
Skylah V
Sommer S
Tiana D
Shaurin P
Renee M

BACKWARD ROLL RIBBON - Green
Crisara A
Jasdeep P
Kayla R
Marlowe C
Muriel T
Shaurin P
Renee M
Kaya A

HANDSTAND RIBBON - Purple
Chloe K
Eva S
Isabella P
Siddhi K
Renee M

CARTWHEEL RIBBON - Rainbow
Abigail A
Gaia C
Ivy H
Kaitlyn T
Lillie P
Marlowe C
Olivia H
Sage J
Viya N
Renee M

BRIDGE RIBBON
Abigail A
Audrey W
Gaia C
Georgie W
Hayley G
Jessie L
Kayla R
Marlowe C
Muriel T
Phoebe S
Sara P
Sommer S
Thomas M
Tiya P
Shaurin P
Renee M
Caleb R

Once all the skill ribbons are earned the gymnasts are presented with their Bronze Medal and invited to move up to our Bronze Plus program, where they get the chance to build on these core skills to advance their gymnastics to new heights!

Tags
Backward Roll | Bridge | Bronze | Bronze Gymnastics | Cartwheel | Core Gymnastics Skills | Forward Roll | Gymnastics | Handstand | Statics
Leave Comment