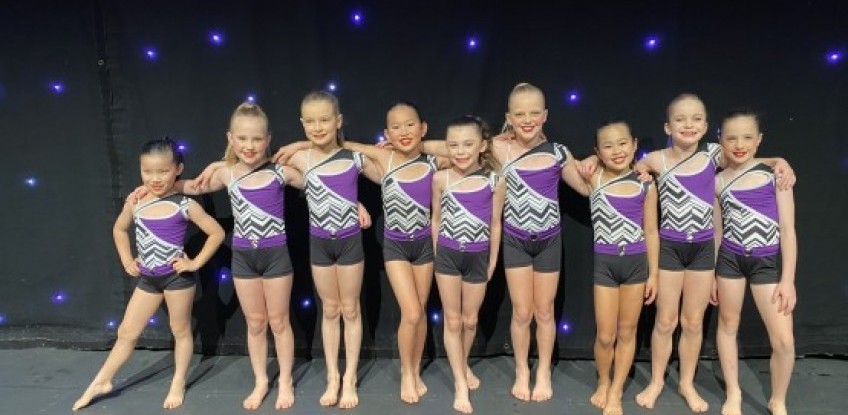 Ipswich Performers Festival 2023
14 Aug, 2023
Posted By : Kristel Suess
Comments : 0
Congratulations to all those who competed at the Ipswich Performers Festival for 2023!

Our Mini Performance team attended the Festival on Sunday August 12th, despite being only 6, 7 and 8 years old, they competed in the 12 years and under age divisions, with performers up to twice their age! And triumphed to win 1st place in all their sections. We are so blown away by the achievement of these little gymnasts, most are in their very first year of performance and only in year 2 and 3 at school, but took home the titles due to their high level of difficulty and ability, competing against High School aged kids!

We began with the 12 years and under Acrobatics groups section, where our team competed their "Ease on down the road" routine, winning 1st place in the tough section.
Then we put a brand new routine on stage "Peter Pan" in the 12 years and under Any Style groups section, winning 1st pl;ace in that section too!

Our Mini's brought boundless energy to the stage, mixed with outstanding skill and team work! The Mini Team is now busy preparing for their next competition, The Noosa Eisteddfod, in September.

Our Mini team were not the only ones to compete at the Ipswich Performers festival, our Solo competitors took to the Ipswich stage on Tuesday August 8th and Wednesday August 9th. Jemma G competed in the 13 years and over Acrobatics solos section, earniong 2nd place and a very high score in the 90's! Zara F and Foe F competed in the 10 years and under Acrobatics solos sections, both girls put on stellar performances with Zara winning 3rd place and Zoe winning Very Highly Commended (4th place) in the tough section!
Tags
Acro | Acrobatics | Champion Gymnasts | Gymnastics | Gymnasts | Ipf | Ipswich Performers Festival