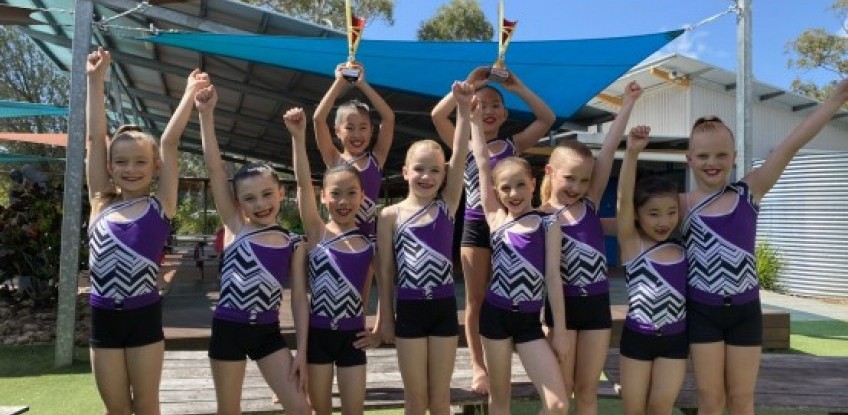 Noosa Eisteddfod 2023
30 Sep, 2023
Posted By : Kristel Suess
Comments : 0
Wow! What an incredible weeekend we hav had at the Noosa eisteddfod on September 16th-17th! All three of our Performance Teams won 1st place in their Acrobatics age divisions, making it a clean sweep for Club Dynamite!!

It was a fun start to the September School holidays for our Performance Teams as they travelled up to Noosa for the annual Noosa Spring dance festival. It wasn't just a great weekend of performing, everyone had a blast with beach time, dinners with friends and hotel stays!

The weekend began on September 16th with our Mini Team hitting the stage in the 8 years and under Age group. Our Mini's totally shone, showing a very high level of skill difficulty. The Team won 1st place in the 8 years and under Acrobatics division, with their Ease on Down the Road routine and then took 2nd place in the 8 years and under Novelty section with their new Peter Pan routine!

Sunday the 17th saw our older teams compete, starting with our Junior Team on Sunday morning. The team gave their best performances of the year, and won BOTH 1st and 2nd place with the 2 routines they entered in the 12 years and under Acrobatics divisions.

To finish off an awesome weekend, our Senior Team blitzed it, winning both 1st and 2nd place in the Open Age Acrobatics groups section, with their 2 routines.

Well done everyone!

Our Teams are now busy prepraring for their final competition for the year! The Future Stars Finals at HOTA on October 14th!
Leave Comment