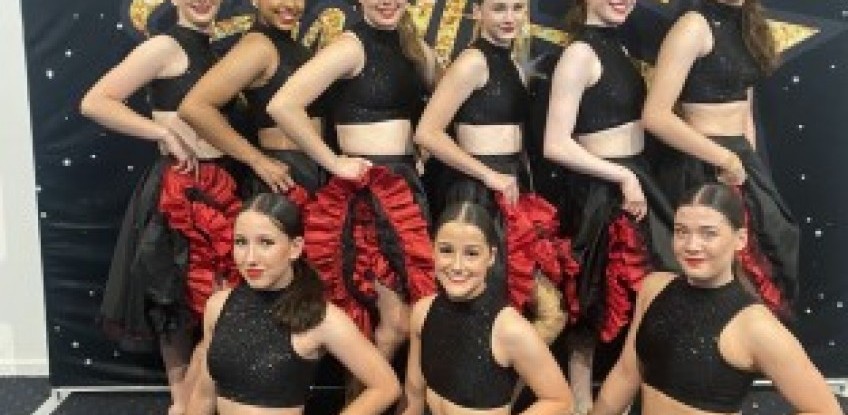 Future Stars Finals 2023
17 Oct, 2023
Posted By : Kristel Suess
Comments : 0
Saturday October 14th marked our final Performance Competition for 2023, as all of our Performance Teams competed at the Future Stars Finals at HOTA (Home Of The Arts) on the Gold Coast. This compeititon was the best of the best, qualifying from competitions throughout the year. Attracting competitors from all over QLD and Australia!

The day began with the 8 years and and under Age divisions. Our Mini's from last year, came back together to compete their "Annie" routine in the 8 years and under Musical theatre division. The group showed an incredible level of skill and performance, winning 2nd place in the section.

Next it was time for our 2023 Mini Team to shine. And shine they did! This team has only been together since January, with the majority of the team in just their 1st year of performance gymnastics, but you would never know it to see the level of skill, performance, team work and professionalism they showed.

They won 1st place in the 8 years and under Acrobatics division, with theiur Ease on down the road routine and put on a stellar performance to win 3rd place in the difficult 8 years and under Any Style section with their Peter Pan routine.

In the afternoon we were joined by our Junior Performance Team, they had one of the toughest battles of all competing in the 12 years and under Acrobatics groups section. The section was large and many of their competitiors were in full time arts schools. But our Junior team put on their top performances for the year and won 3rd place in the competitive section.\

We finished off the evening with incredible and polished performances from our Senior Performance Team. Winning 3rd place in the 15 years and under Acrobatics division, and then blitzning the 15 years and under Any style division, with their new Can can routine to take 2nd place.

Congratulations to all our Performers for an incredible day and an incredible competition season.

You will be able to see our Performance teams doing their award winning routines at the 2023 Showcase on November 12th.

The team are now working hard to prepare for the showcase, where they will also unveil a new routine combining all gymnasts from all 3 teams and preparing for their annual Choreography Competition on December 8th.
Leave Comment